You may not be aware that streetcars will be returning to downtown Los Angeles in a soon as five years, but they are.
From the
Los Angeles Streetcar
website:
"Streetcars are designed to be a constant fixture of urban transportation options for residents, employees, and visitors; they are very different from the Metro rail transportation and subway system that Los Angelinos are used to. A streetcar, unlike light rail, travels in the flow of traffic on rails that are embedded in the road. Automobile drivers traveling in the same lane as the streetcar rarely notice that they are driving on top of rails. Although traveling at speeds similar to those of a bus, streetcars are the preferred downtown circulators due to the comforts offered by fixed-rails during their short trips. Because the streetcar runs on a fixed route, riders can be assured that the route will never change, and appropriate technology, kiosks, architecture, and guideways can be integrated into the urban environment to provide route guidance."
If you have been to San Francisco, you have probably seen the old streetcars from around the world carrying passengers between the Castro, downtown and Fisherman's Wharf. What we will likely see here are the newer modern streetcars like those seen in Portland and Seattle.
Some of you are saying, "Don't we have buses already that go to these places"? Well, true. However, there are "choice" riders who won't use a bumpy uncomfortable bus, but do like more the comfortable ride that streetcars bring. Streetcars also have been shown to attract development and revitalize neighborhoods.
"Buses are excellent local and regional public transportation options, but they will do little to spur redevelopment and economic investment in Downtown LA. This is due to the inherent flexibility of bus service, as routes change regularly to accommodate varying needs; in addition, buses contribute to nerve-racking pedestrian experiences due to heavy street-level emissions and noise pollution that discourses active use of sidewalks. Streetcars do the exact opposite. They provide developers and business owners certainty that the routes will not change, and are considered preferable to buses by residents, visitors, and employees as they offer more amenities, highly reliable routes and timetables, and enhanced urban experiences. Buses and streetcars do, however, work together to connect access points within regional transportation networks. For example, sidewalks can be designed to specifically accommodate both vehicle configurations; in return, a transit stop effectively doubles its value within a regional transportation network."
The planned downtown alignment runs down Broadway.
This led me thinking about other parts of the area that might benefit from Streetcar service, especially areas that desire rail service, but are unlikely to see heavy or light rail in the next few decades, but for whom streetcar service could be up and running in the next few years.
Ventura Blvd. between Universal City and Warner Center came to mind. Also, I imagined connecting Venice Beach and Santa Monica north/south to the Expo Line and Purple Line. I am sure you have your own ideas.
However, what I'd really like to propose for your thoughts today is a Streetcar connecting downtown and Hollywood via Sunset Blvd., through Echo Park and Silver Lake. The first leg could connect downtown and the Red Line. Extensions could go further along Sunset Blvd. to the Sunset Strip and along Santa Monica Blvd. to Century City via the unused right-of-way in Beverly Hills.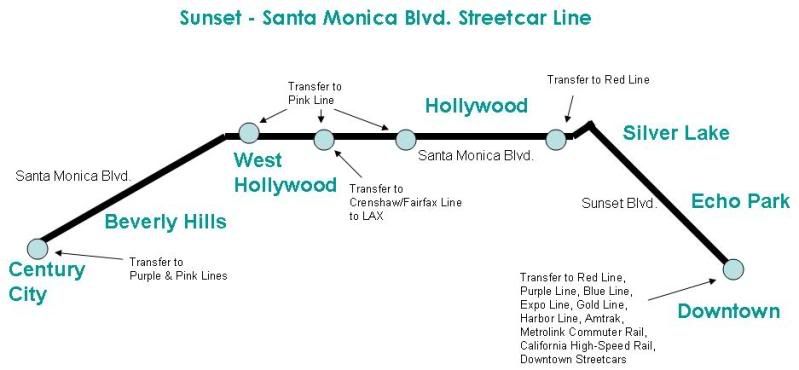 There would actually be two streetcar lines using the same tracks on the West and East end, but running on different streets in the middle.

Both Lines would run from Union Station to Sunset Junction.

Line 1 would run on Santa Monica Blvd. between Sunset Junction and San Vicente.

Line 2 would run on Sunset Blvd. from Sunset Junction to the Strip and then south on San Vicente to Santa Monica Blvd.

Both Lines would be reunite at San Vicente & Santa Monica Blvd. and then head to Century City via the unused right-of-way in Beverly Hills.
The tourists will love it, of course. More importantly, regular commuters will use it.
When someone says, "this town was built for cars", show them this map below and remind them that it was RAIL that built up Los Angeles and California. Just look at what we lost fifty years ago. If we had not tragically dismantled the streetcar system, but improved it over the last several decades, we'd have an amazing system already in place now.
(Please click on image below to see whole map. You may want to keep kleenex nearby for weeping purposes.)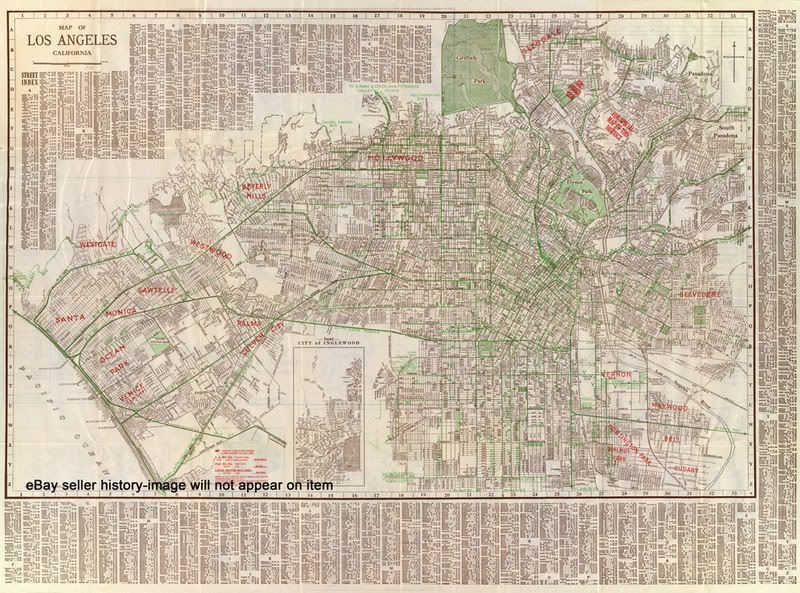 However, we move forward and the upcoming return of streetcars to Los Angeles is something to celebrate along with the expansion to Metro Rail that Measure R funds will bring. All hail as we leave the car-only transportation culture behind. Los Angeles is transforming into the world class metropolitan city is deserves to be.